We Miss Cinema 15: Cinemas actually back; Eurovison; Umbrella Academy S1; Film Buff: Wale Awelenje; E.T., Black Widow
4 months ago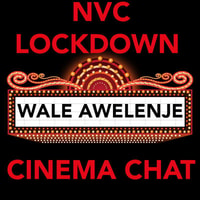 As Cinemas (Cineworld at least) prepare to actually reopen their doors and honest to goodness show new films on the big screen, we have Wale Awelenje on who talks about how much missing Cinemas has been hard to take, how his first cinema experience left him saying 'E.T. phone home' for weeks, and how much he's looking forward to seeing Natasha Romanov leading the line.
In other news, Sharon watches Will Ferrell try and lampoon the unlampoonable with Eurovision, Tosin watches messed up X-Men in Umbrella Academy and Shaun revisits an old favourite in Man with the Iron Fists.
If you would like to be our next interviewee, contact us on www.facebook.com/netflixvscinema or www.twitter.com/netflixvscinema
Support Netflix vs Cinema by donating to their Tip Jar: https://tips.pinecast.com/jar/netflixvscinema
Find out more at http://netflixvscinema.com
This podcast is powered by Pinecast.