126. Halloween Kills VS The Little Things; Ron's Gone Wrong VS Indestructible (Tankers); The Last Duel VS Only Murders in the Building; Venom : Let there be Carnage VS Attack of the Hollywood Cliches
9 months ago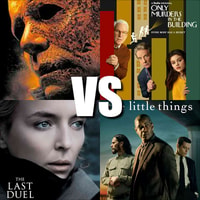 This week Shaun goes on a binge after being denied new films in the Cinema for two weeks. He hoovers up Halloween Kills, Venom : Let there be Carnage, the Last Duel and Dune. We leave Dune till next week, and Sharon joins Shaun in seeing The Last Duel, Which means that Tosin manages to find the one film Shaun swerved in Technological animation tale Ron's Gone Wrong.
At home, Shaun goes Russian with Indestructible (Tankers), Sharon watches three Oscar winners in standard fare in The little things and Tosin pulls double duty, seeing The Steve Martin penned and starring Only Murders In The Building and The Rob Lowe presented Attack of the Hollywood Cliches.
Is Netflix killing cinemas? Each week we weigh up what we've seen in cinemas with what we've watched online at home and figure out which provided the best time. At least, we did before COVID jumped in and declared Netflix, Amazon Prime, Disney + and friends the winner.
Listen and subscribe on iTunes https://podcasts.apple.com/gb/podcast/netflix-vs-cinema/id1448277363
Listen and subscribe on Google Podcasts https://podcasts.google.com/feed/aHR0cHM6Ly9waW5lY2FzdC5jb20vZmVlZC9uZXRmbGl4dnNjaW5lbWE
Listen on Spotify https://open.spotify.com/show/6beXVeSImcgHLsPB22BgE3?si=wdoNI6E0SNqNfoqg4qnw4Q
Support Netflix vs Cinema by contributing to their Tip Jar: https://tips.pinecast.com/jar/netflixvscinema
Find out more at http://netflixvscinema.com
This podcast is powered by Pinecast.