S4E5 - CINEMAS ARE BACK 5: Chadwick Boseman; The New Mutants VS Only; TENET(again) VS The Blackout
3 months ago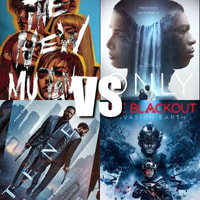 We kick off this weeks Podcast by remembering Chadwick Boseman, a man who delivered some great cinemati moments and promised more only to be brought down by life happening. To our Marshall, Jackie, James, T'challa, you will be missed.
We waited 6 months for Cinemas to come back, nothing compared to The New Mutants who waited 2 years to even get a chance of being in Cinemas. Tosin and Shaun find out if it was worth it. Sharon Catches up with the death of womanhood with Frieda Pinto and Leslie Odom Jr. in ONLY, Shaun Joins Tosin in the head scratching in TENET (We did say it has to be watched multiple times, so we'll review it multiple times) and Shaun goes Russian for his latest new film industry experience with The Blackout.
Support Netflix vs Cinema by donating to their Tip Jar: https://tips.pinecast.com/jar/netflixvscinema
Find out more at http://netflixvscinema.com
This podcast is powered by Pinecast.