123. The Many Saints of Newark VS Blue Miracle; 12 Mighty Orphans VS The Kid Detective; Herself VS Gunpowder Milkshake
1 year ago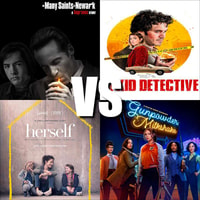 In Cinemas, this week, Tosin watches the only thing he can find The Many Saints of Newark, a prequel to The Sopranos, a TV show he has never watched. Sharon watches Herself, and Shaun is mightily surprised by 12 Mighty Orphans, it appears he might be the only one in the country who found it. We also have a sneak preview of Dune from Alex Arbuthnot.
At home, Sharon has an inspirational and entirely predictable evening with her mum watching Blue Miracle, Shaun adjudges Karen Gillan's action chops in Gunpowder Milkshake (Tosin joins him) and Tosin gets existential with The Kid Detective.
Is Netflix killing cinemas? Each week we weigh up what we've seen in cinemas with what we've watched online at home and figure out which provided the best time. At least, we did before COVID jumped in and declared Netflix, Amazon Prime, Disney + and friends the winner.
Listen and subscribe on iTunes https://podcasts.apple.com/gb/podcast/netflix-vs-cinema/id1448277363
Listen and subscribe on Google Podcasts https://podcasts.google.com/feed/aHR0cHM6Ly9waW5lY2FzdC5jb20vZmVlZC9uZXRmbGl4dnNjaW5lbWE
Listen on Spotify https://open.spotify.com/show/6beXVeSImcgHLsPB22BgE3?si=wdoNI6E0SNqNfoqg4qnw4Q
Support Netflix vs Cinema by contributing to their Tip Jar: https://tips.pinecast.com/jar/netflixvscinema
Find out more at http://netflixvscinema.com
This podcast is powered by Pinecast.