97. The United States VS. Billie Holiday; Me and Earl and the Dying Girl; Sea Fever; Candy Jar; The Sisters Brothers; Did the golden globes even happen?
a month ago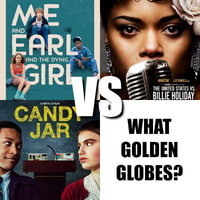 This week, we marvel that we didn't even realise that awards season has started with the Golden Globes, or did it? If an award show falls in the Forest and no one hears ... in Movie Reviews, Sharon subjects herself to another teen movie in Candy Jar, and is pleasantly surprised, Tosin attempts to clear his three year old Netflix 'My List' watching Me and Earl and the Dying girl, and Shaun watches everything again, getting surprised by Sea Fever, (a great Irish movie), going down history lane in the United States vs. Billie Holiday, and watches Joaquin Phoenix play the joker in The Sisters Brothers (wait, what?!)
Is Netflix killing cinemas? Each week we weigh up what we've seen in cinemas with what we've watched online at home and figure out which provided the best time. At least, we did before COVID jumped in and declared Netflix, Amazon Prime, Disney + and friends the winner.
Listen and subscribe on iTunes https://podcasts.apple.com/gb/podcast/netflix-vs-cinema/id1448277363
Listen and subscribe on Google Podcasts https://podcasts.google.com/feed/aHR0cHM6Ly9waW5lY2FzdC5jb20vZmVlZC9uZXRmbGl4dnNjaW5lbWE
Listen on Spotify https://open.spotify.com/show/6beXVeSImcgHLsPB22BgE3?si=wdoNI6E0SNqNfoqg4qnw4Q
Support Netflix vs Cinema by donating to their Tip Jar: https://tips.pinecast.com/jar/netflixvscinema
Find out more at http://netflixvscinema.com
This podcast is powered by Pinecast.