110. A Quiet Place Part 2 VS Awake; Nobody VS Mare of Easttown; The Conjuring: The Devil made me do it VS Jungleland
1 year ago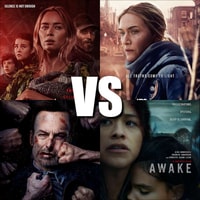 This week we whoop in delight that we all can go to the cinema, and then immediately get attacked by A quiet Place Part 2, Shaun gets a dose of Brutal action in John Wick + A history of Violence + Home Alone = Nobody, and Shaun (him again) catches up with the latest instalment of The Conjuring.
At home, Tosin embarrassingly and regrettably mixes up his Rodriguezs (Heartfelt apologies to Michelle and Gina, I know they listen) while Sharon watches Awake, Shaun goes boxing in jUNGLE LAND, AND Tosin sees what all the fuss is about with Kate Winslet's Bulge in Mare of Easttown.
Is Netflix killing cinemas? Each week we weigh up what we've seen in cinemas with what we've watched online at home and figure out which provided the best time. At least, we did before COVID jumped in and declared Netflix, Amazon Prime, Disney + and friends the winner.
Listen and subscribe on iTunes https://podcasts.apple.com/gb/podcast/netflix-vs-cinema/id1448277363
Listen and subscribe on Google Podcasts https://podcasts.google.com/feed/aHR0cHM6Ly9waW5lY2FzdC5jb20vZmVlZC9uZXRmbGl4dnNjaW5lbWE
Listen on Spotify https://open.spotify.com/show/6beXVeSImcgHLsPB22BgE3?si=wdoNI6E0SNqNfoqg4qnw4Q
Support Netflix vs Cinema by contributing to their Tip Jar: https://tips.pinecast.com/jar/netflixvscinema
Find out more at http://netflixvscinema.com
This podcast is powered by Pinecast.