S4E1 - CINEMAS ARE BACK 1: Proxima, Unhinged; The Nightingale,The Last Days of American Crime, The Decline
4 months ago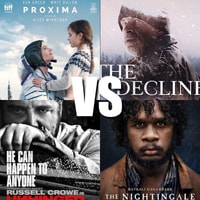 Cinemas are back, like honest to goodness back, like not saying 'we will open again soon when Christopher Nolan decides to release Tenet' but 'actually book a seat and come watch a film in a darkened room' back. And we are reasonably excited.
Shaun goes Beast Mode (does he know any other mode)and lives in the cinema for a week, seeing Russell Crowe in Unhinged, Eva Green in Proxima, and some old film called The Empire Strikes Back. Sharon sees Eva Green in Proxima and Tosin sees ... nothing. ABSOLUTELY NOTHING in a cinema because Cineworld beat Odeon to the Punch with reopening. Boooo!! But he does see The Nightingale, amazing film from Jennifer Kent that gave him a sleepless night.
Support Netflix vs Cinema by donating to their Tip Jar: https://tips.pinecast.com/jar/netflixvscinema
Find out more at http://netflixvscinema.com
This podcast is powered by Pinecast.