109. Raya and the Last Dragon VS Army of the Dead; Cruella VS Resistance; Spiral VS On The Rocks
1 year ago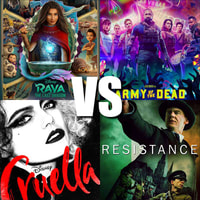 We are just about remembering how to do this cinema thing, and to help us get the hang of it, Tosin went to See Raya and the Last Dragon (as intended on the Big screen), Sharon Made it to See Cruella, And having seen everything the cinema had to offer last week and refusing to see Peter Rabbit 2 this week, Shaun brought Spiral and Chris Rock to the table.
At home, Shaun caught up with the real Snyderverse with Army of the Dead, Sharon goes french with Resistance, and Tosin goes meditatively thoughtful with Sofia Copolla and Bill Murray in On the Rocks.
Is Netflix killing cinemas? Each week we weigh up what we've seen in cinemas with what we've watched online at home and figure out which provided the best time. At least, we did before COVID jumped in and declared Netflix, Amazon Prime, Disney + and friends the winner.
Listen and subscribe on iTunes https://podcasts.apple.com/gb/podcast/netflix-vs-cinema/id1448277363
Listen and subscribe on Google Podcasts https://podcasts.google.com/feed/aHR0cHM6Ly9waW5lY2FzdC5jb20vZmVlZC9uZXRmbGl4dnNjaW5lbWE
Listen on Spotify https://open.spotify.com/show/6beXVeSImcgHLsPB22BgE3?si=wdoNI6E0SNqNfoqg4qnw4Q
Support Netflix vs Cinema by contributing to their Tip Jar: https://tips.pinecast.com/jar/netflixvscinema
Find out more at http://netflixvscinema.com
This podcast is powered by Pinecast.